WINTHROP – Beginning October 26th, Space Exploration Technologies Corp. (SpaceX) went into a public beta - limited to northern latitudes of the US - with its low-Earth orbit satellite internet service, called Starlink. The hype was that it would be a low latency, high bandwidth, internet service to under-served areas such as the great expanse of rural America where terrain, distance or the plodding of a bureaucratic and outdated telco, prevent any decent connection to the internet, and, in many cases, no connection at all.
Some existing satellite internet service options, such as Viasat and HughesNet, use a handful of geostationary satellites in high earth orbit, approximately 22,000 miles above the earth's surface. This introduces a significant delay on every data packet transmitted to and received from the satellite. So it is either extremely frustrating to use, or is simply not usable for some applications that require low latency such as voip and video calls, online gaming, and remote terminals. In addition, such satellite service is often very expensive, slow and overloaded, and data caps severely limit usage. Despite the downsides, until now, it's been the only option for those with no other internet choices.
Starlink claimed to be able to surpass all these limitations of existing services, and deliver low latency, high bandwidth connections to the middle of nowhere, including on the open ocean. It was a big claim, and many were skeptical that it could be done. Starlink was intending to meet this challenge with the design of a satellite constellation of up to 12,000 small satellites, later enlarged to 42,000 satellites, in low-Earth orbit only 340 miles high.
I have been experiencing poor or unavailable internet service from my location a few miles from Winthrop, and was willing to experiment with Starlink and see how it lived up to the hype. So of course, I signed up to be a beta tester soon after it was offered earlier this summer. The private beta began in July, and required testers to sign a non-disclosure agreement (NDA) preventing them from discussing their beta experience. An NDA is not required for the current public beta. 
Happy to have the support of @SpaceX's Starlink internet as emergency responders look to help residents rebuild the town of Malden, WA that was overcome by wildfires earlier this month. #wawildfire pic.twitter.com/xUSQOjcT4T

— WA Emergency Management 😷 (@waEMD) September 28, 2020
A friend got their public beta invitation first, when the first batches went out on Oct 26th. But they weren't able to get past the up-front cost of $500 for the satellite equipment kit, plus $50 shipping, and nearly another $50 in sales tax. The ongoing service then costs $99 a month. There were also additional mounting options available for the dish, ranging from $24 to $99. A ground tripod stand is included with the kit. I tried looking through all my emails, and spam folder, to see if I had missed my invitation, but saw nothing.
I finally got my emailed beta invitation 2 days later, on the 28th. And submitted my order as fast as I could type in my payment card information. I required the ridge-line roof mount, an extra $99 with free shipping, but it was well worth it not to put holes in the roof and to be as high up and clear of obstructions as possible. Overall, it was a fairly steep startup cost to be sure, yet it looks really good in comparison when you have no other reasonable options for internet service. But the cost certainly could have been much worse, as SpaceX is likely significantly subsidizing the equipment. SpaceX packed and shipped my order the same day, and sent it via FedEx from their headquarters location in Hawthorne, California.
I received my Starlink internet kit, and the roof mount in a separate package, on Monday, Nov 2nd. Naturally, I got setup to install it immediately. The Starlink app (for Android and Apple), with its augmented reality obstruction viewer feature, will help you find a dish location that is open sky to the satellites, without trees, poles, and other objects that would block the signal.
When inspecting the package, the build quality of the dish and related components appears quite high. It's packaged very well, and it's quite simple to follow three steps of instruction and setup the dish. Starlink equipment is intended for consumer self-installs, there's no need to wait for an installer to come out, and it's been engineered at every step to require no special skills or knowledge from the user. The roof mount, was also well built, and appeared well-engineered, being foldable with a locking mechanism. It appeared to be made out of a lighter metal than steel, apparently powder-coated aluminum. Which fact I didn't fully appreciate until I had to haul it up and deploy the mount at the ridgeline of the roof, over my head, while standing on a ladder.
When the satellite dish was hooked up and powered up, it takes only a few minutes to orient itself and connect to a satellite overhead. The Starlink dishes are engineered with a motor inside that moves the dish, which allows them to self-orient and point the dish in the right direction for signal. This is quite unlike your existing satellite TV/Internet dish which requires a technician to come out and orient and adjust to the fixed location of the geostationary satellite.
Once pointed in the general direction, the Starlink dish does not further move to track the moving satellites overhead. It is actually a phased array antenna, which electronically steers the signal to track the satellite, and then to complete a switchover to the next satellite moving into position overhead. In low-Earth orbit, satellite windows, the periods when the moving satellite is overhead and visible to a fixed point on the ground, are only about 15 to 20 minutes long.
I plugged the network cable from the Starlink "box" and power supply into my own router and suddenly I had internet access! FAST internet access! As in, I've never before had internet access this fast! Various speedtests show that I am getting a fairly consistent maximum connection of between 150 and 180 mbps down, and around 15 mbps up from Starlink. My latency to Seattle servers is between 21 to 24 ms. Those are simply amazing numbers. Especially when one considers that a large portion of my connection to Seattle went through empty space for hundreds of miles above us.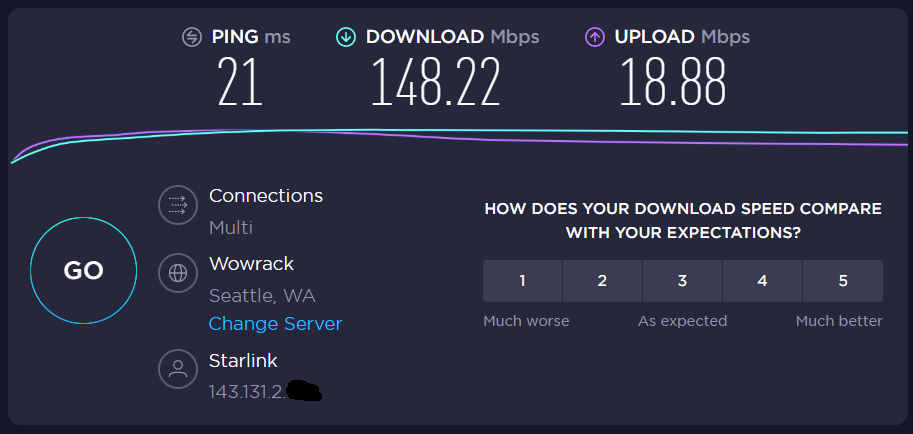 Starlink's beta service delivers speeds that are much faster than any other internet service available in the Methow Valley, except possibly for some rare fiber-optic connections in the towns of Winthrop and Twisp. During the beta, at least, the service is also uncapped, with no limits on data transfer. Elon Musk, SpaceX's CEO, says that latency, speed, uptime, and capacity will only continue to improve over the next few months. They are still waiting for several strings of recently launched satellites to complete their self-lift from the deployment orbit and reach their assigned positions in the constellation. That process should complete over the next few months.
The service is still in beta, and does not represent the intended final quality of the service. I have been pinging my server in Seattle every second while on Starlink service, and those ping graphs had shown connection dropouts of between 1 to 2 minutes long, intermittently but roughly once an hour. There are many smaller dropouts of about 10 to 20 seconds each that tend to occur more frequently. There was also a widespread satellite outage of about 40 minutes last Thursday afternoon, the 5th. That said, in the 2nd week of service, I've already noticed significant improvements, and the connection dropouts are now shorter and less frequent. Due to the dropouts, the connection uptime percentage has been from 98.4% the first week, to 99% in the 2nd week, measured every second over an 8 hour period. It varies a bit day to day, and by time of day, but appears to be consistently maintaining uptime of over 98%.
Under normal use, you would rarely notice the connection dropouts, except for sensitive uses such as gaming, voip and video calls, and tunnel/VPN connections. Still, my SSH connections to remote servers only disconnect during the longer connection dropouts of more than a minute.
I haven't noticed any degrading of connection speed during the foggy, overcast and rainy, and snowy weather that we've had in the valley the last couple weeks. That was a big concern since the high frequency signals used in the connection to and from the satellite are severely attenuated by high moisture levels in the atmosphere. At the speeds that we are getting now though, that doesn't seem to be much of a problem.
There was further concern from potential users about the outdoor dish in snowy weather, and whether snow would build up on the dish and require manual cleaning. That would not be a fun chore for a roof install. Apparently, SpaceX engineers have already considered this very real issue for the northern climes and built small heaters into the dish to warm the surface and melt snow and ice off the dish.
It is unknown when Starlink service will exit beta, and what the various aspects – cost, speed, data transfer cap – will look like when it does. It's possible that it may become more generally available after February 2021.
In conclusion, the Starlink internet service is, in my opinion, certainly living up to the pre-launch hype, and, along with SpaceX, is an amazing use of private capital in furthering technological engineering in a stagnating industry. It seems positioned to greatly improve the lives of many people in rural America when the service rolls out to general availability. Even if you can't get or afford Starlink service, the increased competition on price, speed, and improved service they bring to the rural internet provider market will soon result in much better internet available for everyone living outside of cities and their nearby suburban areas. Just like SpaceX's space transport improvements and lower launch prices did in shaking up the global space industry.
I'll take questions in the comments for those that wish to delve deeper here.